Conference: 'The duty to remember'
Conference run by Jean-Pierre Lauby, the president of the Enfants de Sam (Children of Sam) association. Held at the Jules Isaac Cultural Centre, in Clermont-Ferrand, 19 October 2017.
Over a few decades, 'The duty to remember' has become the standard term, an appeal to citizens to preserve and pass on the stories of those who lost their lives in the armed conflicts of the 20th century. Those who were victims of genocide perpetrated in Europe by Nazi criminals. The duty to remember is also promoted so that crimes against humanity, and all attacks on human dignity which have scarred our communities, are never forgotten.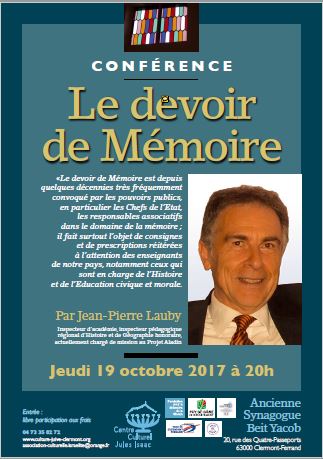 In this spirit we must also ensure that these stories are an integral part of the design and implementation of educational programs, especially in History courses. This is to ensure that historical truth takes precedence over self-interest, counters racist and nationalist mindsets as well as controversies that revive resentments. These are all things that pit people against each other.
We are fortunate to still have with us those who lived through these tragic events. They can tell us firsthand what they saw. Such accounts are precious. They bring personal insight into courses designed with the scholarly input of the teachers.

It is why the expressions 'duty to remember' is worthy of our attention beyond the inevitable clichés that often embellish it. This conference therefore has the objective of reminding us of the crucial place in history for the idea of a 'duty to remember'. This concept has been reiterated by public authorities, memorial associations and groups of former Resistant fighters, inmates and survivors of the camps. These tend to take on a philosophical element and are a part of a policy of human rights and obligations.
It follows that we must talk about the 'duty to remember' and its connection to History, together with remembrance. We must appreciate the difference between 'the duty to remember' and the idea of the 'work of remembrance'. Should we talk of memory in the singular or the plural? Are they visions of events that were linked to a social group to which one belongs? Should we develop lectures and scholarly programmes produced by historical research at the insistence of political powers?
In conclusion, it is worth showing how fragile this idea is in the face of the many attacks that such an endeavour at remembrance encounters, especially in the face of the 'deniers' of all kinds. One can also question whether the growing number of memorial and commemorative claims causes confusion. Especially when dates are contested and there is loose linking of ceremonies which can result in a loss of meaning for the historic interpretation intended.
Jean-Pierre Lauby
October 2017